Free Name Poems
Create your own Free Name Poems right here, right now!
It's as simple as typing the letters of any name into the text boxes on the Start Page. Also, you can add a custom message at the bottom of the print. Simply use your browser to preview and set up the page, then print. Print as many name poems as you like, absolutely free.
Check out below for more detailed information.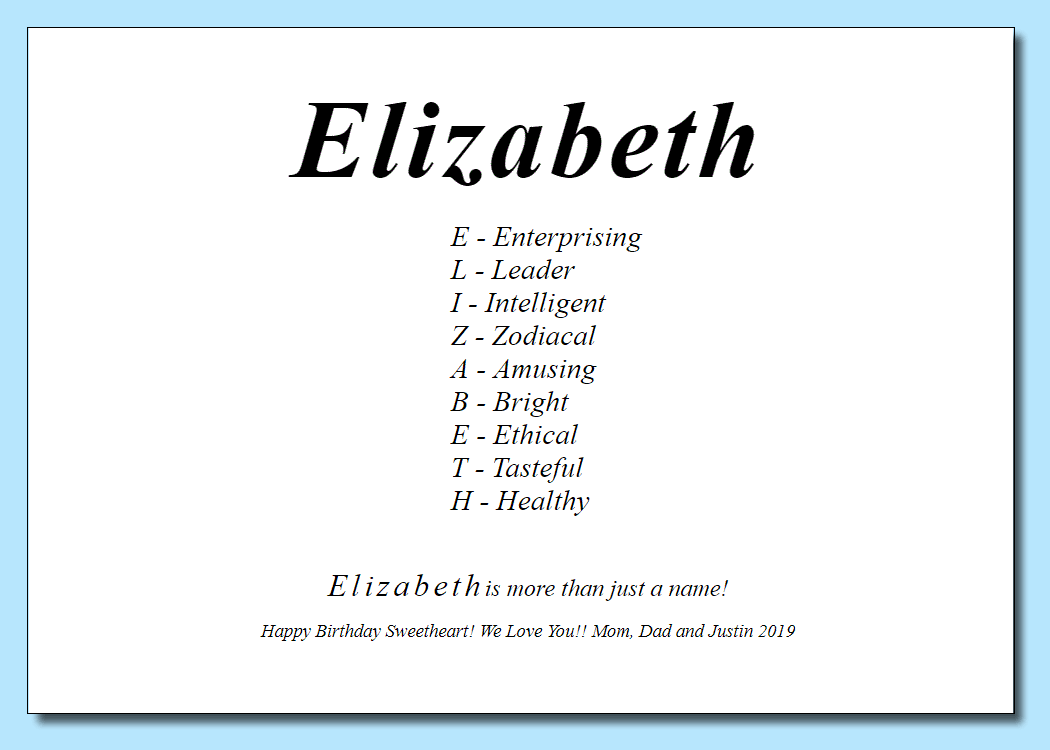 Click or tap
for sample view.
×
---
---
Free Name Poem Information and Details
How To Create Your Free Name Poem
To create your free name poem, first click the Free Name Poems Start Now button above or the Create Your Free Name Poem Now link. These links will open a new window or tab which will have ten textboxes for you to enter letters of the name you would like to use. You can enter any name which contains from 1 to 10 letters. Below this area, there will be another textbox which will allow you to enter a custom message which will be shown at the bottom of the free name poem print. This is optional, you can leave it blank if you like.
After you get all of your information entered into the textboxes, click the Create Your Free Name Poem button. This will change the page to a printable name poem. Then just right click (or tap and hold on a touch device) either on or outside of your Name Poem to bring up a menu and select an option. Google Chrome works good for this. Other browsers will work, but the procedures may be different. Another way is to use your browser's menu to do a Print Preview and to set up your page, then print your Free Name Poem. See below for more details on this.
---
Detailed Printing Instructions
Once you reach a printable page after performing the procedures mentioned above, you are ready to set up and print your free name poem. These instructions are based on using Microsoft Internet Explorer, but they should be similar to other browser's procedures.
When you are viewing your printable page, select File on your browser's menu and then choose Print Preview. This view should show you how your print will appear on the printed page. You will need to select Portrait or Landscape orientation. You will probably find that Landscape will work best. Then, check to see if all of your name poem and custom message is shown on only one page. If it is not all on one page, you may need to adjust the Print Size setting to a lower percentage or to shrink to fit. Another thing you may try to do is adjust the margin settings. This can be done by selecting File and choosing Page Setup. Too much margin at the top may make your print run off at the bottom. Same for side to side. This is also a good way to center your print if it isn't centered properly. For example, if the wording is too high on the sheet, just increase the top margin to push it down.
Something additional that you may encounter is that there may be more information shown on your print in Print Preview like page numbers and/or filenames, etc. If this is the case, you will need to turn off or remove your headers and footers. There should be a button or setting for this. In Internet Explorer, there is an icon in the Print Preview area which will automatically turn the headers and footers on and off when you click it. After you get your view of your print looking the way you want in Print Preview, just select Print to print your free name poems.
Additional Tips
To turn your free name poems into a nice gift, you can get some designer or color paper to print it on and a nice frame to mount it into. This will make a huge difference. Fancy papers and frames can be found at almost any office supply store or even at your local discount store. This paper will probably be 8-1/2 inches x 11 inches in size, just like standard copy paper. You can get frames which are this size, but the nicer and bigger selection of frames will probably be 8 inches x 10 inches in size. To use this size of frame, simply trim or fold the sheet to fit. Enjoy your Free Name Poems.
---
Frequently Asked Questions
Q: Can I use any printer for my free name poems?
A: You can use either a black or color laser printer or an inkjet printer. The best results will depend on the quality of the printer. All of our free name poems print in black only.
Q: Are there any costs involved in creating my name poems?
A: The only costs will be for your paper and printer ink and/or toner. We do not charge anything.
Q: How many name poems can I print?
A: Free Name Poems is absolutely free. Print as many as you like!
Q: Do you have any other Web sites that offer free printables?
A: Yes. Our website Free Printables has links to many of our free printable sites.
---
---